Lake Tahoe Area Campgrounds
---
At these Lake Tahoe campgrounds, you can wake up and walk right out into the crisp Tahoe morning! Camping at Lake Tahoe is the best way to enjoy your visit to The Mountain Sea.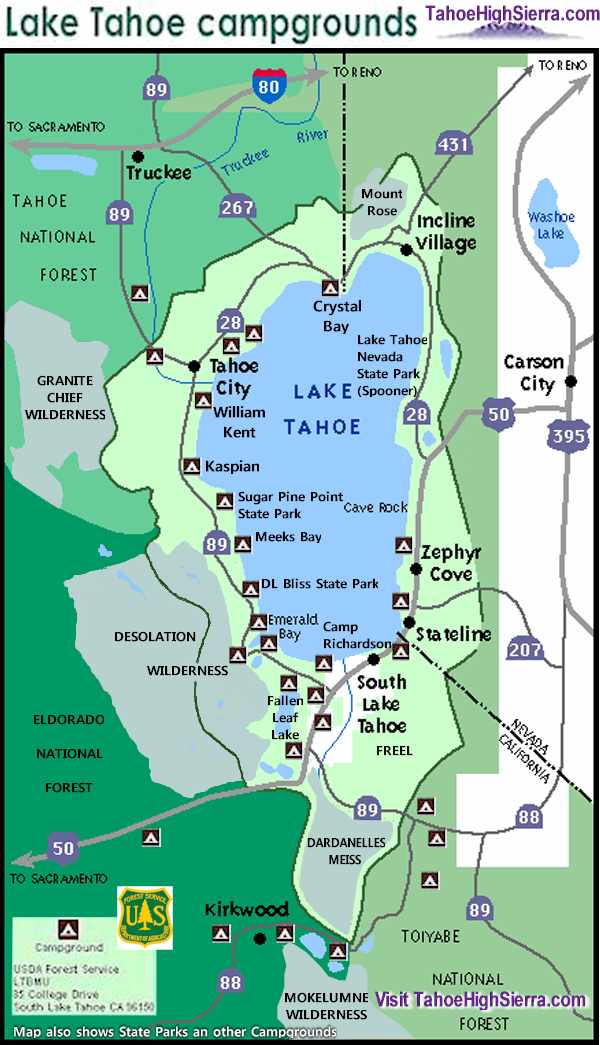 Lake Tahoe Campers: The US Forest Service sent us this helpful and complimentary note with helpful campground contact info. for you...

I am writing to you from the Lake Tahoe Basin Management Unit Forest Service office. I learned about your web-site from a camper seeking information about camp sites in the Lake Tahoe Basin. I wanted to compliment you on your web-site. It is amazing! I was learning all kinds of things about Tahoe that I felt I should already know!!! (Good thing we never stop learning!)
I did want to mention a couple things that will help your readers. You have several camp sites listed with our phone number. We don't mind if people call us, but if the callers want to get specific information about each camp site, there are individual numbers they can call as well. I have listed the campgrounds and their numbers below.
South Shore Campgrounds:
Fallen Leaf Lake reservations 800/280-2267
Fallen Leaf Lake information 530/544-5994

Nevada Beach reservations 800/280-2267
Nevada Beach information 702/588-5562

West Shore Campgrounds:
Kaspian reservations 800/280-2267
Kaspian information 530/544-5994

Meeks Bay Campground reservations 800/280-2267
Meeks Ba yCampground information 530/544-5994

William Kent reservations 800/280-2267
William Kent information 530/583-3642

I will continue enjoying your site. Thanks for everyone for their hard work...this is GREAT!
Marie Bledsoe
U.S. Dept. of Agriculture Forest Service
South Shore Campgrounds
---
Camp Richardson Resort
2 mi. Northwest of South Lake Tahoe on Hwy. 89
Camp Richardson Resort is one of Lake Tahoe's year round retreats, located on the South Shore minutes from Heavenly Valley ski area and all the casinos. A variety of accommodations: lakefront cabins, condominiums, hotel rooms, tent and RV campsites.
Campground by the Lake
Hwy. 50 near South Lake Tahoe
Fee, 170 sites (170 RV sites), Piped Water, Flush Toilets, Firepits, Tables, Pets OK, Swimming
Fallen Leaf
.25 mi. from of the town of South Lake Tahoe on Highway 89
(530) 573-2600
Fee, 205 sites (130 RV sites), Piped Water, Flush Toilets, Firepits, Tables, Pets OK, Swimming
KOA of South Lake Tahoe
5 mi. Southwest of South Lake Tahoe on Hwy. 50
(530) 577-3693
Fee, 68 sites (52 RV sites), Piped Water, Flush Toilets, Firepits, Tables, Pets OK, Swimming
Lakeside Mobile Home RV
South Lake Tahoe
(530) 544-4704
Open Year Round, Fee, 43 sites (10 RV sites), Piped Water, Flush. Toilets, Tables, Pets OK, Swimming
Nevada Beach
1 mi. Northeast of Stateline on Hwy. 50
(530) 573-2600
Fee, 54 sites (30 RV sites), Piped Water, Flush Toilets, Firepits, Tables, Pets OK, Swimming
Tahoe Pines
Tahoe Paradise (Meyers) 5 mi. Southwest of South Lake Tahoe on Hwy. 50
(530) 577-1653
Fee, 80 sites (50 RV sites), Piped Water, Flush Toilets, Firepits, Tables, Pets OK, Swimming
Tahoe Valley
South Lake Tahoe at Hwy. 50 and "C" St.
(530) 541-2222
Fee, 410 sites (301 RV sites), Piped Water, Flush Toilets, Firepits, Tables, Pets OK, Swimming
West Shore Campgrounds
---
D.L. Bliss State Park
11 mi. South of Homewood on Hwy. 89
(530) 525-7277
Fee, 168 sites (21 RV sites), Piped Water, Flush Toilets, Firepits, Tables, Pets OK, Swimming
Emerald Bay State Park
At Eagle Point on Hwy. 89, Emerald Bay
(530) 541-3030
Fee, 100 sites (all RV sites), Piped Water, Flush Toilets, Firepits, Tables, Pets OK, Swimming
Vikingsholm Castle tours through Labor Day
Emerald Bay Boat Camp
North Shore of Emerald Bay
(530) 525-7277
Fee, 22 sites (no RV sites), Piped Water, Chem. Toilets, Firepits, Tables, Pets OK, Swimming
Kaspian
5 mi. South of Tahoe City on Hwy. 89
(530) 573-2600
Fee, 10 sites (no RV sites), Piped Water, Flush Toilets, Firepits, Tables, Pets OK, Swimming
Meeks Bay Resort
10 mi. South of Tahoe City on Hwy. 89
NEW Numbers: (530) 525-6946 for the Resort and (530) 525-5588 for Meeks Bay Marina.
Fee, 28 sites (10 RV sites), Piped Water, Flush Toilets, Firepits, Tables, No Pets, Swimming
Meeks Bay Campground
10 mi. South of Tahoe City on Hwy. 89
Reservations: (800) 280-2267
Information (not reservations): (530) 544-5994
Fee, 40 sites (all RV sites), Piped Water, Flush Toilets, Firepits, Tables, Pets OK, Swimming
Sugar Pine Point State Park
At General Creek on Hwy. 89
(530) 525-7982
Year-Round, Fee, 175 sites (all RV sites), Piped Water, Flush Toilets, Firepits, Tables, Pets OK, Swimming
William Kent
2 mi. South of Tahoe City on Hwy. 89
Operated by US Forest Service
Reservations: (800) 280-2267
Information (no reservations): (530) 583-3642
Fee, 95 sites (40 RV sites), Piped Water, Flush Toilets, Firepits, Tables, Pets OK, Swimming
North Shore Campgrounds
---
Lake Forest
2 mi Northeast of Tahoe City off Hwy. 28
(530) 581-4017
Fee, 21 sites (all RV sites), Piped Water, Flush Toilets, Firepits, Tables, Pets OK, Swimming
Mt. Rose
7 mi. Northeast on Hwy. 431
(702) 882-2766
Fee, 24 sites (9 RV sites), Piped Water, Flush Toilets, Firepits, Tables, Pets OK
Sandy Beach Campground
Tahoe Vista
(530) 546-7682
Fee, 40 sites (20 RV sites), Piped Water, Flush Toilets, Firepits, Tables, Pets OK, Swimming
Tahoe State Recreation Area
.25 mi. East of Tahoe City
(530) 583-3074
Fee, 39 sites (23 RV sites), Piped Water, Flush Toilets, Firepits, Tables, Pets OK, Swimming
North of Lake Tahoe (Truckee Area) Campgrounds
---
Boca
Boca Reservoir off I-80
(530) 587-3558
Fee, 20 sites (10 RV sites), Chem. Toilets, Firepits, Tables, Pets OK, Swimming

Boca Rest
9.5 mi. East of Truckee off I-80
(530) 587-3558
Fee, 25 sites (all RV sites), Chem. Toilets, Firepits, Tables, Pets OK, Swimming
Boyington Mill
10 mi Northeast of Truckee off I-80
(530) 587-3558
Fee, 10 sites (no RV sites), Chem. Toilets, Firepits, Tables, Pets OK, Swimming
Donner Memorial State Park
3 mi. West of Truckee off I-80
(530) 587-3841
Fee, 252 sites (all RV sites), Piped Water, Chem. Toilets, Firepits, Tables, Pets OK, Swimming
Emigrant Trail Museum
Goose Meadows
5 mi. Southwest of Truckee off Hwy. 89
(530) 587-3558
Fee, 25 sites (all RV sites), Chem. Toilets, Firepits, Tables, Pets OK, Swimming
Granite Flat
3 mi. Southwest of Truckee off Hwy. 89
(530) 587-3558
Fee, 75 sites (all RV sites), Piped Water, Chem. Toilets, Firepits, Tables, Pets OK, Swimming
Lakeside
at Prosser Lake off Hwy. 89
(530) 587-3558
Fee, 30 sites (all RV sites), Piped Water, Chem. Toilets, Firepits, Tables, Pets OK, Swimming
Logger
10 mi. East of Truckee off I-80 at Hirshdale
(530) 587-3558
Fee, 252 sites (all RV sites), Piped Water, Chem. Toilets, Firepits, Tables, Pets OK, Swimming
Martis Creek
5 mi. Southeast of Truckee off Hwy. 267
(530) 639-2342
Fee, 29 sites (all RV sites), Piped Water, Chem. Toilets, Firepits, Tables, Pets OK, Swimming
Prosser
at Prosser Lake off Hwy. 89
(530) 587-3558
Fee, 29 sites (all RV sites), Piped Water, Chem. Toilets, Firepits, Tables, Pets OK, Swimming
Sage Hen
11 mi. North of Truckee off Hwy. 89
(530) 587-3558
Fee, 9 sites (no RV sites), Chem. Toilets, Firepits, Pets OK
Silver Creek
9 mi. South of Truckee off Hwy. 89
(530) 587-3558
Fee, 26 sites (19 RV sites), Piped Water, Chem. Toilets, Firepits, Tables, Pets OK, Swimming
East Shore Campgrounds
Zephyr Cove
at Zephyr Cove on Hwy. 50
(702) 588-6644
Year-Round, Fee, 181 sites (107 RV sites), Piped Water, Flush Toilets, Firepits, Tables, Pets OK, Swimming